NATIONAL POSITIONS BLOG
The industry's top wizards, doctors, and other experts offer their best advice, research, how-tos, and insights — all in the name of helping you level-up your SEO and online marketing skills.
Your 100-Day Digital Growth Plan Complete!
What's the one thing every digital marketer knows? You're never done growing. There's always something new to learn…that is, if you want to stay ahead of the competition and elevate your business to new heights. Now that we've completed our 100-Day Plan, we're afraid you'll miss your daily dose of digital growth! That's why we're happy to present the first in our 5-eBook Series, collecting the 100-Day blogs into topic groupings. (Get your FREE download of the first one here.)
Growth Tactic #98 Support a Good Cause and Grow
Doing well by doing good—it's not a new idea, but as long as there is a need for good causes and the organizations that address them, there will be a need for companies willing to pitch in. Smart business owners and marketers know the benefits and rewards for those ready to Support a Good Cause and Grow. Learn their secrets in Growth Tactic #98 from your 100-Day Digital Growth Plan—and do take note—there are only 2 more to go before
What's the new marketing mindset?
It's all about growth.
Learn the latest in our new eBook.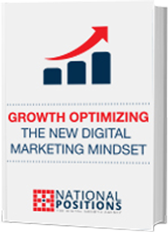 Growth Tactic #75 Say It Out Loud–Blog Commenting for Social Engagement
Level of social engagement and interaction are key indicators that something is working…or not. When it comes to blog posts, the more comments people see, the more alluring posts become. Why? Because (for good or bad) they've been dubbed "popular." And we really like popular. So, for selfish reasons (getting your own name out there), try performing the seemingly selfless act of  blog commenting on others' posts. Intrigued? Learn more in Growth Tactic #75: Say It Out Loud--Blog Commenting for
Growth Tactic #74 Optimize Your Copy for Growth
Q: What's the one thing that contains your whole business identity and carries your message to the world? A: Content! That may sound melodramatic, but when content converts, your bottom line grows. Content is just that important, and making it work for you takes conscious, detailed attention. No need to fear that you're not up to the task—we'll show you the shortcuts and tools that will help you Optimize Your Copy for Growth, in Growth Tactic #74 from your 100-Day
Growth Tactic #30: Build a LinkedIn Group for Social Growth
Solidify your reputation as an industry leader and make essential business connections with Growth Tactic #30: Build a LinkedIn Group for Social Growth. We're offering our best tips and insights to keep you learning and growing well into 2017 with our 100-Day Digital Growth Plan. Overview–Build a LinkedIn Group for Social Growth Having trouble finding the right community? Build it yourself with a LinkedIn Group. Think about your favorite topic of conversation when it comes to your business. What subject
7 Ridiculously Simple Tricks to Grow Local Business Leads
Lead generation is a key element for any successful business. Hearing some experts tell it, though, generating leads sounds like a complicated venture that could give pause to small business owners. After all, who has time for complex formulas and strategies when you have a business to run? Fortunately, you can use these 7 ridiculously simple tricks to grow local business leads for yourself. 1. Enhance Google My Business (GMB) API If you're not making full use of the GMB