NATIONAL POSITIONS BLOG
The industry's top wizards, doctors, and other experts offer their best advice, research, how-tos, and insights — all in the name of helping you level-up your SEO and online marketing skills.
12 PPC Marketing Hacks for Better ROI
You set up a Google AdWords account. You create mind-blowing copy. You roll out your campaign and wait for the sales to roll in. And you wait. And you wait. And you wait. Did you just burn money? Are all PPC campaigns as unpredictable as video poker? We need to drive leads, and we need to close sales. More often than not Google AdWords is the first place we turn to fill our pipeline. And for good reason. AdWords can
5 Keys to Effective Digital Healthcare Marketing
Looking to take your healthcare business to the next level? In today's market, a company can't survive without a strong digital marketing plan. Do you know… The recent changes in digital healthcare marketing? The challenges that those changes pose to healthcare businesses? How to take your healthcare marketing to the next level? If you didn't answer an emphatic yes to any of those questions, keep reading. The Healthcare Industry Is Expanding According to the Center for Medicare and Medicaid Services
What's the new marketing mindset?
It's all about growth.
Learn the latest in our new eBook.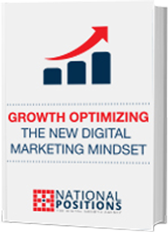 3 Ways to Say 'Thanks' This Thanksgiving
So, it's Thanksgiving in a couple of days. Did you remember to thank the loyal customers who've been in your corner since day one? What about the new clients you just added to your family? If you made a Thanksgiving faux pas and forgot to send out greetings of gratitude – have no fear! Here are three last-minute ways to say: THANK YOU!    A Typed Note Is Better Than No Note Okay, so we all know that a handwritten
6 Content Marketing Strategies to Drive Growth
It's on the lips of every marketer in the world. It's challenging. It's effective, and when applied correctly, can drive massive results. Content marketing has been pushed into the spotlight and the light is only growing brighter. A good content marketing strategy can make the difference between growth and stagnation. The trick? Creating content that people want to consume and search engines want to rank. Easy to say. Hard to do. So how do you create content that actually drives
Content: When Less Is More and More Is Better
Bite-sized content grabs attention. Longer messages inform the reader. Short-form content is the superficial fluff of the marketing world. No one reads long articles anymore. You probably know all the arguments for and against each type of content. You may even know that any well-rounded content marketing strategy requires both longer and shorter pieces. But do you know which to use, when, and why? Here are a few content marketing ideas that will help you sort through the confusion. Sometimes
5 Scary Good Social Media Tricks
In celebration of Halloween, we're sharing 5 scary good social media tricks that you can start using right now. We hope you have a frightfully fun day - filled with spine-tingling results! (Or at least a few more followers…)