NATIONAL POSITIONS BLOG
The industry's top wizards, doctors, and other experts offer their best advice, research, how-tos, and insights — all in the name of helping you level-up your SEO and online marketing skills.
Growth Tactic #81 Generate Great Content Forever
Is your content feeling a little tired and repetitive? It could be that you need an ideation refresh. In other words, you need a better process for generating fresh, new, appealing ideas—the kind that will help you write stronger content, targeted to your audience and practically guaranteed to convert. Here's an idea—see how to use ideation tools to make it happen in Growth Tactic #81, Generate Great Content Forever, your latest from the 100-Day Digital Growth Plan. OVERVIEW--Generate Great Content
Growth Tactic #80 How Do You Score? Survey Your Customer Loyalty
On a scale from 0 to 10, where does your business fall when it comes to customer loyalty and happiness? By using Net Promoter Score®, you can quickly and easily survey customer loyalty and find out if your customers would be willing to put in a great word for you of their own accord…or, if they're on the verge of writing a bad review. Let's jump right in with Growth Tactic #80 in your 100-Day Digital Growth Plan, How Do you
What's the new marketing mindset?
It's all about growth.
Learn the latest in our new eBook.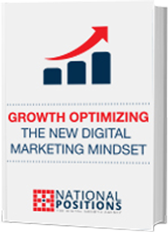 Growth Tactic #79 Find a Social Partner for Shared Growth
Growing your business is not a solo job—good thing that sharing your growth with a social partner is a great way to expand online reach and bring more people to your website. Let's start with the basics: who is a social partner? Any business owner who has a message or customer base that's similar to yours can qualify. Even if you're not a social butterfly, stepping out of your comfort zone and making friends in the business world could be
Growth Tactic #78 The Lines Are Open! Give Them Your Number
Sharing your phone number loud and proud on your website is so 2007…or is it? If your digits are no longer readily available on your website, you might be (unknowingly) sabotaging leads when you could be producing increased conversions. Oh, wait. Hang on a second– do you hear that? That's the sound of your 100-Day Digital Growth Plan calling with Growth Tactic #78 The Lines Are Open! Give Them Your Number – well, it's a good thing we had your
Growth Tactic #77 Increase Brand Credibility by Sharing Your Secrets
When it comes to growing your business, it's important that your clients trust you and the work you do. So, what does this mean for business owners? It means that working to build brand credibility translates to success--but building credibility isn't a one-time thing. Luckily, there are numerous steps you can take to increase credibility over time. Even if you've already written blog posts, launched an email series, or gained positive media coverage for your brand, there is one step
Growth Tactic #76 Wake Up Former Users with an Email Offer
Are your users stuck in a deep sleep? An inactivity trance? Wake up former or inactive users with an email offer that looks as good as that first cup of coffee smells. You'll have customers back in action in no time with Growth Tactic #76, Wake Up Former Users with an Email Offer. It's the next mini-chapter in your 100-Day Digital Growth Plan. Rise and shine! OVERVIEW--Wake Up Former Users with an Email Offer  Humans don't hibernate, so if your