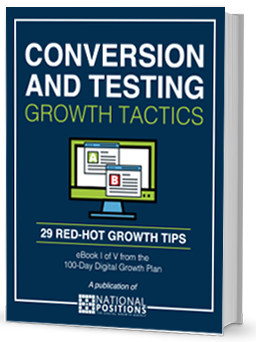 What's the one thing every digital marketer knows? You're never done growing. There's always something new to learn…that is, if you want to stay ahead of the competition and elevate your business to new heights. Now that we've completed our 100-Day Plan, we're afraid you'll miss your daily dose of digital growth! That's why we're happy to present the first in our 5-eBook Series, collecting the 100-Day blogs into topic groupings. (Get your FREE download of the first one here.)
Since we opened our digital doors (and first brick-and-mortar location) over 12 years ago, our number one goal has been to help you grow – which is why we put together our 100-Day Digital Growth Plan series.
Now that your tool box is overflowing with new tactics, your next step is implementation. If you have any trouble putting these ideas into practice, we're eager to become a permanent part of your extended team. Here's a little recap of what we've been up to, in case you're just dropping by for the first time in a while.
Read on to find out how our next steps will help you with yours.
OVERVIEW: The 100-Day Digital Growth Plan
Over the past 100 working days, we've revealed (you guessed it) 100 tried-and-true tactics in each of the following categories: Conversion & Testing Growth, Content Growth, Email Marketing Growth, and Social Growth & Online PR. From The Email Upgrade Pitch to Live Chat to Onboarding Emails – our growth tactics have tackled it all.
If you want to find a particular post from this series, or just browse the entire collection, click the "Explore by Category" drop-down from our blog page and select "100-Day Digital Growth."
If you have questions about any of these Growth Tactics, or about how to use them as part of your overall digital strategy, see Step Three below!
HOW-TO: Take the Next Steps in Your Digital Growth Plan
STEP ONE: Download! As noted above, we just released eBook I: Conversion and Testing Growth Tactics: 29 Red-Hot Growth Tips. This eBook is chock-full of easy-to-digest solutions that will help you increase awareness, convert leads, increase sales and so much more. If you click here, we'll take you to a page where you can instantly download your copy completely free.
STEP TWO: Make sure to visit our LEARN page on a regular basis. Once you choose this option from the top nav bar, the first box reads "eBooks & Whitepapers." This is where you'll be able to download free copies of eBooks II-V our 100-Day Digital Growth Plan Series as we add them over the next few months.
STEP THREE: Contact National Positions to learn more about Custom Digital Growth Campaigns. No matter in which direction you're looking to grow, our knowledgeable sales team will put together a plan that fits your company's specific needs. Then, our expert team of digital marketing gurus will help you create content, execute your goals, and analyze results.
RESOURCES AND TOOLS
Thanks again for being a part of our 100-Day Digital Growth Plan blog series. We hope you find this collection of eBooks helpful, as you search for ways to make your next campaign the most productive, successful one yet!