Marketing Automation
Automated Marketing created for the 21st century
Until recently, only the largest companies have been able to afford marketing automation, but recent gigantic advances in technology have made it available and affordable to small and medium-sized businesses everywhere.  Marketing automation allows companies to identify web visitors, score leads, communicate with prospects, and track results easily and effortlessly. As the price of marketing automation continues to plummet, small and medium-sized companies that previously relied on Mail Chimp and Constant Contact will replace their email systems with more sophisticated Marketing Automation platforms.
Marketing Automation is seeing huge growth because it allows companies to automate and simplify many marketing processes previously done manually, saving companies thousands of dollars while increasing sales and leads. The exciting fact is that high quality marketing automation is available at prices that almost all companies can afford.
Marketing Automation promises three important benefits that all companies can appreciate:
More leads
More sales
More efficient use of Marketing Budget
Drive More Leads
Almost all businesses that adopt a marketing automation program experience an exponential return on investment. Here are a few of the features that help to increase leads, sales, and ROI.
Identifying Anonymous Visitors Through VisitorID
Less than 3 percent of visitors that visit a website ever fill out a form. That means that 97% of the traffic being generated from PPC campaigns, search engine optimization (SEO) and other digital marketing can be considered wasteful. VisitorID identifies many of these "anonymous" visitors. Marketing Automation turns anonymous visitors into leads by providing contact information such as email and phone numbers. In many situations, VisitorID can double or triple the average conversion of a website.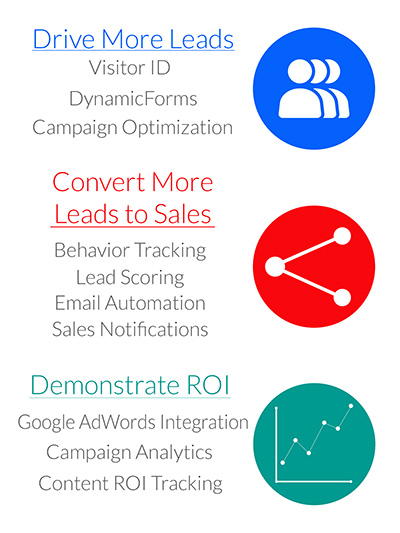 Capture Information with Dynamic Lists
Dynamic List creation is one of the most powerful features of Marketing Automation. With dynamic lists, you can automatically group prospects based on behavior or demographics. Dynamic lists allow you to send very targeted messages to your prospects
Nurture leads
One of the main goals of Marketing Automation is to nurture leads that are not quite ready to purchase. Marketing Automation sends prospects personalized messages to help nurture the prospect along the decision-making process. When the prospect is ready to buy, your sales team is notified by email or via a text so they can quickly respond to the needs of prospects just at the right time.
Often overlooked is the fact that Marketing Automation can also be used for your existing customer, allowing you to up-sell and cross-sell as well as develop and retain existing customers.
Segment Leads
Marketing automation makes it simpler to send targeted emails to prospects. It also allows you to capture data about prospects, allowing you to segment your message in a more personalized and carefully crafted way. This custom-tailored messaging allows you to gain trust among prospects and helps automate and personalize the sales process. More relevant messaging aligned with a prospect's needs ultimately means better qualified prospects, more leads, and ultimately more sales.
Close more sales

Marketing Automation helps to generate more sales by scoring leads based on activities such as visiting certain web pages, downloading content, or opening and reading emails.
By identifying the prospects most involved in your content, the sales team can more effectively identify the prospects most likely to buy.
With digital assets you can fill your sales funnel by capturing leads with great content gated by dynamic forms.
Lead Scoring to Alert Hot Leads
A user-defined scoring mechanism automatically scores leads based on prospect activity. For instance, each time an e-book is downloaded, an email is opened, or a webpage is visited, a score is assigned to a prospect. This scoring mechanism help sales people to understand which leads are more likely to buy than others. Marketing Automation can instantly notify sales people about leads when they reach a particular score or when they take a certain action.
Understand the Sales Funnel
Marketing Automation allows you to optimize each phase of your marketing and sales funnel.
Reports indicate visually which leads are at what stage in the sales pipeline. You can also see exactly where leads have fallen out of your pipeline and why.
Comprehensive Campaign Analytics
Tracking all marketing and sales events throughout a single platform allows management to easily understand which marketing tactics are driving revenue and which ones are a waste of time. Marketing Automation can help business owners  eliminate waste. If, for instance, you're spending thousands of dollars on a PPC campaign and you're only driving a handful of leads, our Marketing Automation system will identify this issue and allow you to redirect those dollars towards more productive campaigns. In some cases, understanding this factor alone will justify the investment in a Marketing Automation system.
Google Adwords Integration
Marketing Automation allows you to track your Adwords costs. It allows you to understand which keywords are generating sales. This information allows you to understand the performance of your keywords, including which keywords generated leads and sales. Knowing this information allows you to budget your paid search spend better.
Eliminate Waste
You need to be able to understand the cost of your marketing efforts and be able track your visitor conversions based on lead source. This means that you need to track leads from their first visit to the website all the way to the completed sale, even if the sale occurs a long time after the first visit.
Content ROI Tracking
One of the biggest challenges faced by marketers is determining the ROI associated with their content marketing efforts. Marketing Automation provides you with complete information on how each prospect has interacted with your content. Knowing which content is working and which isn't allows you to invest your resources in the most cost-effective way
Time to ROI
Almost all companies see a positive ROI from Marketing Automation within a year. 48% see an increase in ROI within 4 months and 12% within 1 of implementation according to a Focus Research Study.
READY? SET. GROW!
Fill out the form below and one of our Growth Experts will give
you a call to discuss how we can increase your bottom line!
We'll be in touch shortly.