How often have you wondered about the best way to make your company stand apart from its competitors? Here's a no-fail tip for taking your business to the top with a competitive analysis. Differentiating your brand from its competitors will show your clients why your product or service out-performs others. Find out how in Growth Tactic #94, Make a Competitor Comparison Chart. It's next up in your 100-Day Digital Growth Plan.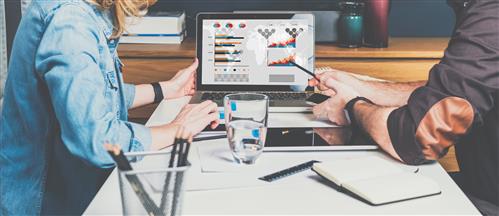 OVERVIEW–Make a Competitor Comparison Chart
It's important to know what's out there in terms of brand competition. Otherwise, how will you set a higher standard than your opponents? Don't bother trying to convince us that your company has no competition, because–trust us–it does. Instead of ignoring your rivals, embrace them. A simple and effective way for comparing yourself to similar brands is through a competitor comparison chart. Your chart can lay out key decision-making factors, such as pricing, features, data, apps, tools, growth rate and more, in a streamlined design. Once you create a chart, you can easily analyze in which areas your company is slightly lacking or excelling. Ever wonder why you are having trouble gaining new clients? It could be because your prices are much higher than others in your field. Although researching your challengers may not be the most uplifting task, it's important to understand your enemies and keep them close.
Read on to learn how competitor comparison charts can get you across the finish line and leave your opponents in the dust.
HOW-TO
STEP ONE: Find out who your competitors are and then research them. Make note of key categories such as pricing, services offered, and features–any area in which you and your competition differ could be an important point of analysis. Type up these notes in a bulleted list so that you can easily add them to your comparison chart.
STEP TWO: Choose a template that will most appropriately display the information you gathered. Depending on the type of business you have and the factors you want to compare, different types of charts may be more suited to your needs. If you want to analyze products with multiple characteristics, a spider chart is efficient. A table or even a pie chart, on the other hand, can help you compare factors across a broader range of competitors. Check out our resources for more template ideas.
STEP THREE: Create your competitor comparison chart using one of the tools described in the resources below. A visual aid displaying what your competition does versus what you do will highlight the steps you need to take toward growth. Don't worry, your company doesn't need to be the best in every category. But, if you can find a way to make your brand stand out from the others, then boosting your business should be a breeze.
RESOURCES AND TOOLS
We're committed to providing a deep source of information and education for our community. Find more resources in our Learn page and visit us here again for the next 100-Day Digital Growth Plan Tactic! Then, contact us for more ideas on digital growth and your website.