NATIONAL POSITIONS BLOG
The industry's top wizards, doctors, and other experts offer their best advice, research, how-tos, and insights — all in the name of helping you level-up your SEO and online marketing skills.
Can You Hear Me Now? How to Strategize for Voice Search SEO
Things are changing again in the digital world. What was once a text-only platform--namely, search—is now getting much more personal. Voice recognition is taking over not just mobile devices, but home devices as well, with personal assistants like Amazon's Echo or Apple's brand new HomePod. Google estimates that 20 percent of all searches conducted on mobile devices start with a voice request. Here's the question: how are you going to handle the voice search SEO challenge? Voice Search SEO is a Whole
Your 100-Day Digital Growth Plan Complete!
What's the one thing every digital marketer knows? You're never done growing. There's always something new to learn…that is, if you want to stay ahead of the competition and elevate your business to new heights. Now that we've completed our 100-Day Plan, we're afraid you'll miss your daily dose of digital growth! That's why we're happy to present the first in our 5-eBook Series, collecting the 100-Day blogs into topic groupings. (Get your FREE download of the first one here.)
What's the new marketing mindset?
It's all about growth.
Learn the latest in our new eBook.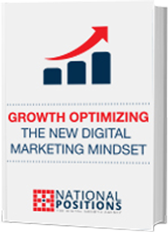 Growth Tactic #94 Make a Competitor Comparison Chart
How often have you wondered about the best way to make your company stand apart from its competitors? Here's a no-fail tip for taking your business to the top with a competitive analysis. Differentiating your brand from its competitors will show your clients why your product or service out-performs others. Find out how in Growth Tactic #94, Make a Competitor Comparison Chart. It's next up in your 100-Day Digital Growth Plan. OVERVIEW--Make a Competitor Comparison Chart It's important to know what's out
Growth Tactic #93 When Customers Leave–Learn from an Exit Interview
It's not about you—it's about them. Well, more accurately, when someone walks away from your business, it's all about their customer experience. The worst thing you can do is to take it personally (easy to say, right?). This should help: focus on how to avoid making the same mistakes in the future, with our advice from Growth Tactic #93 of your 100-Day Digital Growth Plan, When Customers Leave—Learn from an Exit Interview. OVERVIEW--When Customers Leave--Learn from an Exit Interview  
Growth Tactic #87 Welcome Visitors with Total Website Personalization
Getting personal—it's one of those things you have to do at the right time, in the right place. Let's assume you know the finer points of when and where (we're giving you credit, here)—but do you know how? There are more digital options than ever before to reach out and connect with visitors, in highly effective (non-creepy) ways. Learn more in Growth Tactic #87, Welcome Visitors with Total Website Personalization.     OVERVIEW--Welcome Visitors with Total Website Personalization Starting
Growth Tactic #84 Trigger App Alerts to Help Customers ASAP
We've all been there. You're navigating through a website when suddenly you encounter a problem. Either you can't log in, you're not sure how to make a purchase, you come across a bug, or you don't know where to click for the right information. And we can predict what you do next…leave. We want to help your business avoid this inevitable dilemma in Growth Tactic #84, Trigger App Alerts to Help Customers ASAP--the next step in your 100-Day Digital Growth