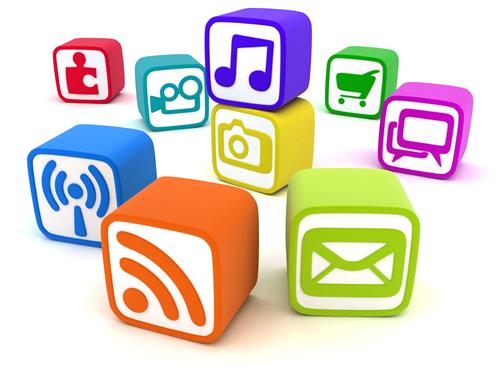 7 Best Free RSS Feed Readers
If you spend a great deal of time online, you understand what a time sink the internet can be without proper organization. This is where RSS feed readers come in, offering an organizing system that pulls customized content together for your specific needs–as a bonus,  you'll never have to worry about running out of ideas for content marketing. We're saving you a little time right now, with this comparison of 7 Best Free RSS Feed Readers for blogs, apps and news.
1. TweetDeck
If you are looking to shorten the distance between what you read online and the main point of the communication, utilizing Twitter as your feed baseline is perhaps your best bet. Users of multithread programs like Hootsuite will be right at home with Twitter's feed provider, TweetDeck. It organizes your incoming tweets into real-time columns that are much easier to navigate than Twitter itself, because you get to choose the content you see on TweetDeck. Even though Twitter recently added a similar first-party service called Moments, TweetDeck still provides an added layer of customization to cut down on tweet bloat.
The "save" feature that allows you to come back to articles later is quite impressive, but perhaps the best feature of all in TweetDeck is the ability to organize your columns according to hashtag, a customized user list or a trending subject. TweetDeck comes as an app for Mac computers, or you can use it straight from your browser.
2. Buffer
If you are looking to share your life through social media, Buffer is the RSS reader for you. It is a good investment for bloggers who need to keep up with real-time news in specific disciplines. Buffer allows you to add all your social media profiles and see all the headlines from each of them in the same place. You also have the ability to share any of the links from one social media account to any others with a personalized message. There are different levels of service on this RSS feed; the free service allows you to add 15 feeds. You can use Buffer directly in your browser or as an Android or iOS app.
3. FeedReader
If you are looking for a program that is to-the-point and very powerful, then FeedReader should be right up your alley. This is a streamlined RSS feed reader that allows you to easily locate the most important options without a great deal of clutter. You can also open links that come from an external browser, creating an instant convenience for people who like to move between them. Rather than naturally synching with Google Reader, FeedReader will export files that use OPML format, which then enables Google Reader to open them. You may have to find an alternative way to perform some of the functions that you like with other RSS feed readers, but the simplicity of this program makes it a definite top 7 choice for news aggregators.
4. Flipboard

The slogan of this feed reader is "Your Personal Magazine," and with good reason. This reader has one of the most attractive designs of any free option, resembling an online magazine. You can easily organize all of the feeds that are of interest to you, along with the people that are bringing news your way. Keeping in line with the magazine motif, you are greeted immediately by a list of Cover Stories from your list of followed topics. You can "like" content that you enjoy and get more of it, and you can "flip" in order to curate a post into a magazine format that you can share with others. Some very distinguished users, like Kickstarter, create magazines using Flipboard.
5. SmartNews
If you do not have as much time as you would like to aggregate your feeds for news, SmartNews will do it for you. This appropriately titled feed reader saves you the work of having to find the stories that you like or top sources for a particular topic. The application will automatically perform the search for you using base terms like world, sports, lifestyle, entertainment and current news to serve your content. The reader is always up-to-date; for instance, if you had searched for news about the presidential election during the time it was happening, you would have received curated articles from top news sources automatically. The SmartView curates your content specifically by removing any of the extra junk on a website before showing you what you want to see. You can also read the articles offline if you like, adding another degree of convenience.
6. RSSOwl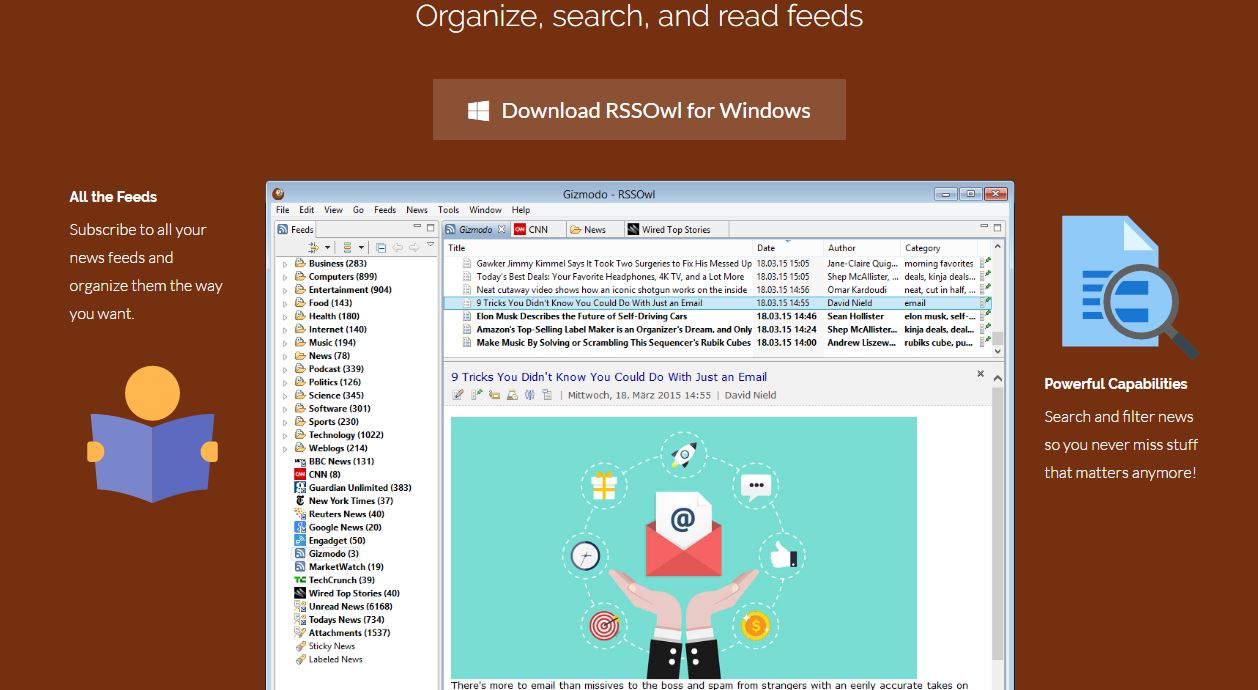 RSSOwl is a feed reader that combines many of the best features from other readers into a single source. A very powerful view feed manager, RSSOwl has a versatile set of options that may actually confuse some users at first. However, once you figure out how to set up your customized options, you are off to the races with an incredibly streamlined and good-looking feed. RSSOwl has the ability to easily import feeds from your other readers, so you actually get an amalgamation of options and views in one tool.
7. FeedDemon
As one of the older entries on this list, FeedDemon might be expected to have lost ground to newer counterparts by now. The truth is that FeedDemon was the first feed reader to implement many features that are now standard in the industry, and it was the most effective in doing so.
Alongside a beautiful feature set, your smart devices have immediate syncretism. Besides that, you get access to a top array of web-based readers, the ability to subscribe to any audio podcast and play it directly from FeedDemon and a help facility that remains best-in-class. The help facility is what really sets this reader apart from its competition. FeedDemon can be intimidating for a person who is new to RSS, but the support you receive from the help facility makes the transition quite easy. Lastly, FeedDemon integrates with Google Reader, so if you are already using this popular option, you do not have to change your habits much.
Having a great feed reader on your side is a smart way to save time online while easily navigating the most relevant information for your interests. Give the devices above a chance and find out which is the most specific to your needs. You may find that one reader performs more gallantly than another for a certain subject area, but you may want to use a specific reader for additional subjects. It costs you nothing to experiment—after all, the tools above are free at their base level!
No time to build the content marketing you really need? Contact us to help you plan a content-rich year of growth in 2017.