NATIONAL POSITIONS BLOG
The industry's top wizards, doctors, and other experts offer their best advice, research, how-tos, and insights — all in the name of helping you level-up your SEO and online marketing skills.
Growth Tactic #8: The eBook Giveaway
Haven't you always wanted to be an author? You don't have to admit that, but here's your chance to grow your business with The eBook Giveaway. It's the latest tactic from our 100-Day Digital Growth Plan, with daily tips and insights that will keep you learning and growing well into 2017! Overview – The eBook Giveaway Have you ever thought of yourself as an expert? No? Chances are, you have every right to claim that title in some aspect of your work.
12 Ways to Repurpose Great Content for No Cost
12 Ways to Repurpose Great Content for No Cost The content on your website is a key factor in drawing in visitors. No doubt, you invest time and money in making it work to attract, acquire and convert customers. Stretching your investment so that you get the most use of your content has two distinct advantages for your business. First, it saves money when you use existing content in multiple ways. Second, your business can reach new users by delivering
What's the new marketing mindset?
It's all about growth.
Learn the latest in our new eBook.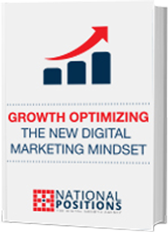 10 Best Ways to Acquire Customers and Spend Less
Given that a business pays as much as six to seven times more to acquire customers than to keep them, a strong acquisition strategy is crucial. It's likely you're now spending significant budget to land each customer relationship, so we want to share our 10 best ways to acquire more customers while spending less. Scroll down to the end for a special Bonus Tip... 1. The Strategic Alliance to Acquire Customers You can control your marketing spend by building your
Influencer Marketing Ebook is Now Available!
You've probably heard some of the buzz about Influencer Marketing, and how it is redefining the way businesses reach their customers.  In a world where social media is key and content is king, Influencer Marketing lets you combine the best of both worlds, with the added power of word-of-mouth advertising. Influencer Marketing is taking the digital advertising industry by storm, so whether you're a small business looking for new local customers or a global enterprise that wants to reach your