You can't hide behind that screen forever. Well, technically you could–but where's the fun in that? Break out, break free, and Be Your Brand at Network Events. Learn how and why you should employ branding and networking to represent your business in the flesh from time-to-time, in Growth Tactic #68 from your 100-Day Digital Growth Plan.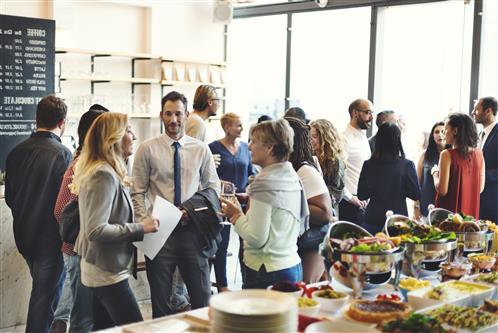 OVERVIEW– Be Your Brand at Network Events
Has it been a while since you last engaged in a firm handshake, read body language signs, responded to a joke with haste, or gave a spiel about your business in record time? Do not think of these ways to brand at network events as part of the "good old days" of marketing – they're still important and relevant in the business world. In fact, because they're so few and far between in today's electronic-heavy world – they matter even more when they actually happen. But where do they happen these days, you ask? Anywhere from casual coffee shop encounters to exciting, pre-planned networking events. In this tactic, we're going to focus on the latter – industry happenings, trade shows, conferences, and the like. So, start practicing your pitch and smiling in the mirror. Say goodbye to your comfort zone and hello to a world of opportunities (and new prospects).
HOW-TO
STEP ONE: For the day-to-day, make sure to have business cards with you at all times – you know, just in case. But to plan for the bigger stuff, you'll need to do a little research. Find out what industry events (trade shows, conferences, etc.) are upcoming and suitable for your brand.
STEP TWO: Once you find an event that fits like a glass slipper – you've got a decision to make. Do you want to vend or just attend? If you're just going to scope and mingle, all you need to do is purchase your ticket, make travel arrangements and accommodations, and reorder your business cards. If you're going the other route and securing a booth, guest speaking, presenting, etc., then you're not quite done. Once you reserve your space or timeslot, you'll need to make sure you have everything you need to brand out loud at the event. See the Resources and Tools section below, visit Growth Tactic #62: Brand Your Swag & Build Loyalty for some advertising ideas, and decide which lead capture app you want to use for securing email addresses. Explore the options they offer to attract users via surveys, or a contest on site while you network.
STEP THREE: Pack up your promo items (and your charm) and hit the road. While you're at your networking event, make sure to…ahem…NETWORK! Don't be shy. Or, if you are shy by nature (shout out to ingenious introverts) make sure you bring a team member along who isn't afraid to get social. Hand out swag, trade info with potential partners, schedule calls with prospects–and don't forget to flash those pearly whites.
RESOURCES & TOOLS
We're committed to providing a deep source of information and education for our community. Find more resources in our Learn page and visit us here again for the next 100-Day Digital Growth Plan Tactic! Then, contact us for more ideas on digital growth and your website.