If you have a local business (or multiple branches or maybe even a franchise retail store) local search is crucial to your online success. In fact, local SEO is arguably more important than traditional SEO, because it gets your store/branch ranked in the local search results, rather than the universal results. You might be thinking, "but isn't it better to rank in the universal results than the local results? Surely, the universal results will drive way more traffic, and produce more sales." Well, not exactly.
No. 1, ranking in the universal results is much more difficult because the keywords are broad and much more competitive. Therefore, it will require a bigger investment. Online marketing is about return on investment, at the end of the day. If you can easily and cost-effectively rank locally and generate scalable traffic and revenue…what do you think?
No. 2, Organic Search is now heavily favoring local search. This means local search results are often outranking the universal results, anyway. Google and Bing search algorithms are able to discern what search is intended for location-based products or services, and deliver quality results. For instance, if you are searching for a dentist, Google knows that you aren't looking for dentists 3,000 miles away. So the top results are geotargeted. Since 85% of organic traffic goes to the top 3 results, it's better to rank locally than universally.
No. 3, local traffic is far more qualified and much more likely to convert to paying customers. Thus, local search rankings often generate more valuable traffic. All things being equal, local search engine traffic is going to generate more business than universal search engine traffic. When you consider how much more cost-effective it is to generate local rankings, it's a no-brainer.
Still doubt the importance of Local SEO? Check out this image below: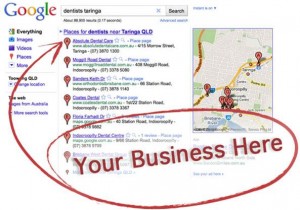 Meanwhile, gig changes are coming to the world of local search engine optimization.
Google recently announced a number of moves that will change how your business gets found by local customers.
1. Google is eliminating Google Places business profiles and replacing them with Google+ business profiles, which will work much the same way as Facebook pages.
2. When you find local search results on Google (via Google Search or Google Maps) you will find Google+ profiles.
3. Google is now integrating into local search results reviews and recommendations from Zagat, which they acquired last year.
We wanted to give you a rundown of how your business can take advantage of these new changes. Here are the top ways to optimize your business for the new local search landscape.
Onsite Optimization
This goes beyond the onsite work you'd for a traditional SEO campaign. You must include your "NAP" — business name, address, phone number — on your website. And you must do it in a consistent way. This means that you shouldn't try to create a dummy local address and phone number to rank Los Angeles when you're really in Ventura County. Google and Bing will catch you, we promise. And when they do, you will get spanked and your rankings will fall off the face of the Earth.
If you have multiple branches, onsite optimization gets a bit more complicated. You need to structure your site so each branch's NAP is listed accurately. (Links to the Google+ pages would be great here. Even better, Google Maps API integration!)
Geo formatting is more important than the NAP listing on your site. The search engine crawlers see your site's micro formatting first. So having the NAP optimization for geo formatting is crucial to local rankings. You also need to creation a geo sitemap and submit it to the search engines.
Local Citations
Local search results are heavily impacted by something called local citations. These are offsite content and/or links back to your site, which include your NAP. Whereas traditional SEO is heavily impacted by inbound links and social signals pointing back to your site, local SEO is impacted by how many people are referencing you according to your business name, location and phone number. If you can generate a lot of citations, Google and Bing see your business as a valuable result for location-based searches with your keyword.
Local citations are as important to local SEO as linking is to traditional SEO.
Business Profile Creation & Optimization
The best way to generate quality local citations is to create and optimize your business profiles on all the major business and local directories on the web. This tells Google and Bing that your business is a valued industry leader, as you're popular on Foursquare, Facebook, Twitter, Google+, Yahoo Local, Bing Local, LinkedIn, Yelp, City Search, Merchant Circle, Mojo Pages, etc. There are over 100 major directories that will generate significant local search juice.
Remember to create business profiles for each branch. If you have 50 branches, you need to create 50 local search campaigns, because each branch will optimize for a specific local search.
Business Submissions
Submitting your business profile to all the major search sites gets your business indexed and found much more frequently, first by the search engines and then by the customers. At National Positions, we manual submit you to 100+ sites, including 7 local map sites, 10 mobile map sites, 5 smartphone sites, 20 local directories, 10 business directories, 10 search engines, 10 social sites, 10 video sites, 7 blogs and additional bonus listings, feeds and featured sites.
Video Optimization
Video sites such as YouTube and Vimeo help you generate high quality local citations. If you have any company videos, syndicate and optimize them for all the top video sites and create NAP citations back to your website.
Mobile Optimization
Local search is tied to mobile search. That's because over 70% of all local searches are performed on smartphones and tablet computers. In fact, the Google Maps app on iPhones and Androids has changed local online marketing as much as Groupon, LivingSocial or any other daily deal platform. That's because it's now incredibly easy to find local products and service while you're on the go. So it's a great idea to optimize your business for mobile search, too.
You should create a mobile optimized website for each branch, with special mobile calls to action such as click to call and click to map. This makes it easy for customers to search, find your result, go to your site, and make an order and find directors to your store.
Social Media
Go beyond setting up a business profile on Facebook, Twitter, Google+ and Foursquare. Use these social networks to engage your customers by marketing your business with special deals, customer service and news updates. Meanwhile, all that organic social interaction will boost rankings and traffic. Social media marketing is very powerful for local business; it helps generate rankings, traffic, sales and boost retention.
Social media is going to work hand-in-hand with local search. Bing has integrated with Facebook and Google+ combines local search and social. Companies that optimize for social media will see better results in the rankings.
Positive Reviews
Google's acquisition and integration of Zagat's confirms what we've been saying for a longtime: that local marketing is going to become a combo of search, social and reviews. This makes a lot of sense, because user engagement is heavily impacted by the reviews and recommendations made by their peers. 90% of people trust recommendations they read online, and 80% of users cancel a purchase if they see a bad review.
At National Positions, we've been anticipating this development for a while. Last year, we launched Positive Reviews Pro to create an end to end solution for local merchants. PRP helps you gather and post positive reviews from real customers. We can help you post to Google, Yahoo, Bing and other top local search sites. Positive Reviews integrates perfectly with local search, social media and email marketing to help you drive traffic, customer engagement, sales and capture contact info for future email marketing campaigns.
Press Releases
Offsite content creation is more important for traditional SEO, but it's still a huge help for local SEO. You should be generating monthly press releases on new company products or promotions, and syndicate to thousands of news and industry sites via a paid press release service. At National Positions, we use PR Web to syndicate your press release to up to 2,000 top sites.
Press releases generate quality backlinks to your business, but it also drives organic traffic to your site on a monthly basis.