Facebook has recently released a new version of their policies and guidelines that removes quite a few restrictions that were previously in place and finally allows businesses to add calls-to-action in their cover photos.
Up until now, Facebook's cover photos have been like giant banner ads your business always wanted, but was never really allowed, to use to their fullest potential.
Right at the top of the screen, cover photos are great at capturing attention and offer the perfect platform to promote a deal, place a call-to-action, add a phone number and so much more—except for how Facebook's guidelines forbid all of that.
When Facebook first introduced this latest layout, complete with the addition of cover photos, they specified that these were not the places to put calls-to-action. In fact, they had policies stating that cover photos should not include any of the following:
Calls-to-action including "Act Now" "Click Below" and more
Prompts to "Like" or "Share"
Product or service information like pricing or purchasing methods
Promotional deals, such as "50% off all men's shoes"
Your business' contact information including phone number, address, website etc.
Thankfully, Facebook has released a new version of their policies—without any of these specifics.
With that section removed, the only restrictions to cover photo content that Facebook now specifies is the following:
"All covers are public. This means that anyone who visits your Page will be able to see your cover. Covers can't be deceptive, misleading, or infringe on anyone else's copyright. You may not encourage people to upload your cover to their personal timelines. Covers may not include images with more than 20% text."
What does all this mean for your business?
Now that cover photos are far less restricted, your business can leverage them as a marketing tool in ways that you never could before. Plain and simple, cover photos are a great way to reach customers and, as simple as they may be, are more helpful then ever as an element of your social media marketing.
Here's a great example of how Hubspot updated their cover photo after discovering the change in Facebook's policy.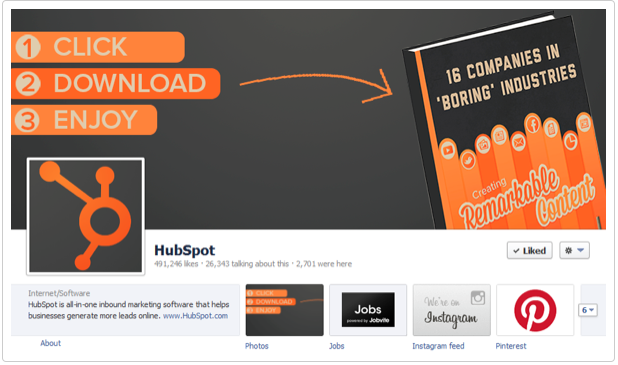 If you have a special event, a promotional offer, a new product price, or more—you can display it loudly and proudly at the top of your page where it will be more likely to draw attention and attract leads. Likewise, if you're a local business, or your business has a page for each location—you can place your most essential contact information here to make it even easier for customers to find.