Maximize Your eCommerce Site with SEO and Social Media
Ecommerce SEO Strategies to Get to the Top of the Search Results
As an e-tailer, running a successful online business means implementing and optimizing a comprehensive online marketing campaign capable of getting you the organic exposure you need in order to really drive more business.
In this ebook you'll learn trade secrets that will drastically improve your ecommerce site's search engine and social media performance.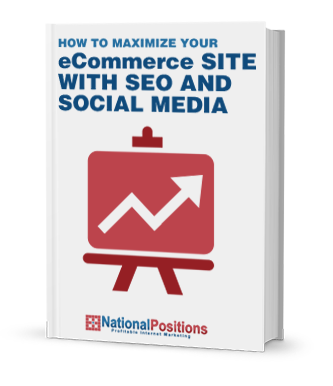 This 55-page ebook, Hubspot and National Positions have come together to bring you a step-by-step guide on the SEO and social media best practices you need to create an effective, profitable ecommerce marketing campaign. In this free ebook, co-written by marketing experts from National Positions, you'll learn about:
The top organic search & digital marketing strategies specifically designed for online retailers
Post-Panda and Post-Penguin SEO Strategy
The Importance of Buyer Personas
The Power of Rich Snippets
Using Facebook Marketing for eCommerce Success
Making profits from social media campaigns
…and much more. Fill out the form to the right to claim your free copy.