GROWTH OPTIMIZING
Learn The New Digital Marketing Mindset and get breakthrough ideas for your business growth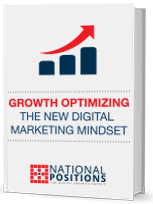 Are you looking for new ways to break out of old patterns and explode your business growth? This eBook takes the best ideas from today's business thought leaders, and integrates them into a new methodology for digital marketing.
If there's one constant in the digital marketplace, it's change, and the biggest challenge of all is keeping up with the relentless pace of change.
Now, there's a new digital marketing mindset that shows you how to quickly identify market needs, make and test product changes, and repeat successes for a continued cycle of growth.
Download our newest eBook, Growth Optimizing, The Digital Marketing Mindset, now, to learn:
How to leverage analytics, creativity, and experimentation, to achieve massive growth
How to think beyond the sales funnel of gaining likes and shares, to build customer signups, retention, and new sales
How to learn from successful implementation cycles, to keep growing
Download your free copy here and learn everything you need to start Growth Optimizing for your business.