NATIONAL POSITIONS BLOG
The industry's top wizards, doctors, and other experts offer their best advice, research, how-tos, and insights — all in the name of helping you level-up your SEO and online marketing skills.
Bing's New Search Goes Live
Bing recently announced that their new interface is now accessible to all users. Bing says that the new way of searching is "designed to help you interact with friends and take action without compromising the core search experience." One of the new features that Bing has added is a social "sidebar" that allows you to get a better sense of what your friends and the web know, which should make your decision-making process a little easier. Bing will take information
Google AdWords Changes Matching Behavior
Google has announced that it will be changing how they handle AdWords misspellings, using plurals and other discrepancies for keywords or phrases. Now in mid-May, Google will match close variations to phrases and keywords that may appear in search results. This will make things for users and for advertisers much easier. While Google's organic search results already offer this, it will now include AdWords results. The reason for the change is that 7% of all searches contain misspellings. There are
What's the new marketing mindset?
It's all about growth.
Learn the latest in our new eBook.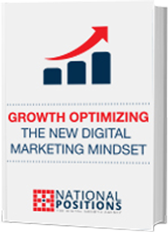 Important Features for a Successful eBook
The great thing about eBooks is that you can usually offer them for free in exchange for the users contact information. This is a great way to gain leads, but what should you be doing to make sure that you're delivering a well-written eBook? Here are some important components that you need to incorporate. Cover and Title Your eBook should give off a sense of professionalism from the cover page. It's the first thing that readers will see, so you
Six Inbound Marketing Tips
Inbound marketing is a helpful marketing strategy that has proven to be effective if done correctly. Here are some aspects of inbound marketing that people usually get wrong and what you can do to prevent them. Customer Testimonials One major mistake when it comes to customer testimonials is that they can either sound too dry and boring or they can come off contrived by giving your business too many compliments. While your business might actually deserve these compliments, to customers,
National Positions: Do Review Sites Matter?
If you're a customer trying out a local business for the first time, whether it's a restaurant, retail store, spa or bar, you're probably interested in how well it has been reviewed by other customers. You might use review sites like Yelp, Google Places, Judy's Book, Angie's List, etc. to see how well it rates. Does how well a business rates on review sites really matter, though? To keep it simple, yes. Now more than ever, there are several websites
National Positions: How Customer Reviews Affect Your Business
CUSTOMER REVIEWS At National Positions, we work with clients on reaching out to customers to improve their online reviews. That's because we know the Internet has fundamentally changed marketing because now, for the first time, your customers have a voice. If they are happy with the product or service, they can take to the web and spread the word. Similarly, if they are unhappy with the product or customer service, they can post negative reviews online. All data proves that