NATIONAL POSITIONS BLOG
The industry's top wizards, doctors, and other experts offer their best advice, research, how-tos, and insights — all in the name of helping you level-up your SEO and online marketing skills.
5 Scary Good Social Media Tricks
In celebration of Halloween, we're sharing 5 scary good social media tricks that you can start using right now. We hope you have a frightfully fun day - filled with spine-tingling results! (Or at least a few more followers…)
Why Should e-Marketers Care about Amazon Spark?
Amazon has unleashed a new feature designed to match shoppers with products and pair businesses with customers. It's called Amazon Spark. A cross between Instagram, Pinterest, and Houzz, it's goal is to facilitate product discovery. But how? And what should e-marketers know about the new Instagram-style feed? Amazon Steps into the World of Social Media When you think of social media, Amazon hardly comes to mind. Aside from its product reviews, the online behemoth isn't known for facilitating user-to-user interaction. That's
What's the new marketing mindset?
It's all about growth.
Learn the latest in our new eBook.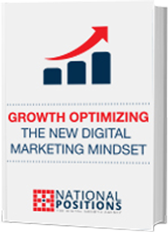 5 Ways to Drive More Leads Via Facebook Marketing
Facebook marketing helps businesses expand their reach, establish their brand identity, find loyal followers, and promote their content. But did you know you can use the social media platform to generate leads? If Facebook isn't a cornerstone of your digital marketing strategy, then you need to reconsider your approach. Here's why you should take advantage of Facebook Ads and what you can do to get the most mileage out of your account. Easy Pick or Epic Showdown? Facebook Ads Versus
3 Reasons You Should Advertise on Facebook:
With several digital marketing channels available to businesses today, one channel in particular stands out from the rest: Facebook. With the vast data and information Facebook has about its users, Facebook advertising is allowing businesses to reach current and new customers easier than ever. If you're unsure if Facebook advertising is right for your business, read on to find out if it is the platform you can't afford to pass on. Facebook Has Billions of Users  There are currently two
Your 100-Day Digital Growth Plan Complete!
What's the one thing every digital marketer knows? You're never done growing. There's always something new to learn…that is, if you want to stay ahead of the competition and elevate your business to new heights. Now that we've completed our 100-Day Plan, we're afraid you'll miss your daily dose of digital growth! That's why we're happy to present the first in our 5-eBook Series, collecting the 100-Day blogs into topic groupings. (Get your FREE download of the first one here.)
Growth Tactic #100 Keep Sharing on Social for More Promotion
Your new blog post is the Hope Diamond of all blog posts. It glimmers and shines on your website. Don't keep it hidden in the dark – make it sparkle in front of an even bigger crowd. How? Promote, promote, promote! Learn how to Keep Sharing on Social for More Promotion (without annoying or boring your readers). Welcome to Growth Tactic #100, the final piece in your 100-Day Digital Growth Plan. Congratulations--you've graduated! OVERVIEW: Keep on Sharing on Social for