NATIONAL POSITIONS BLOG
The industry's top wizards, doctors, and other experts offer their best advice, research, how-tos, and insights — all in the name of helping you level-up your SEO and online marketing skills.
Your 100-Day Digital Growth Plan Complete!
What's the one thing every digital marketer knows? You're never done growing. There's always something new to learn…that is, if you want to stay ahead of the competition and elevate your business to new heights. Now that we've completed our 100-Day Plan, we're afraid you'll miss your daily dose of digital growth! That's why we're happy to present the first in our 5-eBook Series, collecting the 100-Day blogs into topic groupings. (Get your FREE download of the first one here.)
Growth Tactic #93 When Customers Leave–Learn from an Exit Interview
It's not about you—it's about them. Well, more accurately, when someone walks away from your business, it's all about their customer experience. The worst thing you can do is to take it personally (easy to say, right?). This should help: focus on how to avoid making the same mistakes in the future, with our advice from Growth Tactic #93 of your 100-Day Digital Growth Plan, When Customers Leave—Learn from an Exit Interview. OVERVIEW--When Customers Leave--Learn from an Exit Interview  
What's the new marketing mindset?
It's all about growth.
Learn the latest in our new eBook.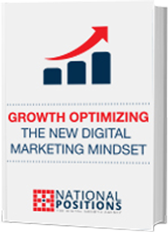 Google to Remove Ads on Right Hand Side of Search Results
In one of the biggest moves to date, Google has confirmed that they will remove paid search ads on the right hand side panel of the desktop search results. That leaves paid search ads on desktop being displayed only at the top and bottom of the search page. How many ads will show? According to Google, 3 ads will show at the top and bottom of the search results, except in the case where the search term is extremely competitive
Google Changes Local Search Display
What big display changes mean for small businesses Do you have an uneasy feeling that something in your universe has changed recently, but you can't quite put your finger on it? It's not a cosmic shift, but a new local search display format from Google, which may be just as significant. As a business relying on local search results, you need to understand what has changed and what these changes mean for your business. (more…)
Google Rolls Out AdWords "Callout Extensions" Highlighting Offers Within Ads
Google has recently announced they are rolling out another addition to their Google AdWords platform, a new feature deemed "Callout extensions."  Callout extensions are essentially additional text that will appear alongside your Google search ads--giving advertisers the opportunity to highlight specific information, draw attention to some of the more important elements of their offers, and ultimately increase click-through rates. This should be good news for advertisers and PPC management companies. As Google put it on their blog, the addition of