NATIONAL POSITIONS BLOG
The industry's top wizards, doctors, and other experts offer their best advice, research, how-tos, and insights — all in the name of helping you level-up your SEO and online marketing skills.
Growth Tactic #96 Expand Your Reach by Integrating Partner Software
Feeling a bit isolated in the competitive online world? Make new friends and build your business as you Expand Your Reach by Integrating Partner Software. You may think you aren't ready for partners, but think again: you can have the benefit of a partner's brilliant idea (read: app) and skip the complication of a full-on relationship (read: no baggage). It's easier than you think, as you'll see in Growth Tactic #96—one of the last 5 gems in your 100-Day Digital Growth Plan!
Growth Tactic #74 Optimize Your Copy for Growth
Q: What's the one thing that contains your whole business identity and carries your message to the world? A: Content! That may sound melodramatic, but when content converts, your bottom line grows. Content is just that important, and making it work for you takes conscious, detailed attention. No need to fear that you're not up to the task—we'll show you the shortcuts and tools that will help you Optimize Your Copy for Growth, in Growth Tactic #74 from your 100-Day
What's the new marketing mindset?
It's all about growth.
Learn the latest in our new eBook.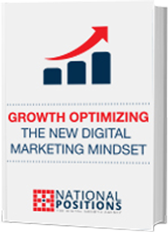 Growth Tactic #39: Email an Upgrade Pitch
You know all those users who have tried your service/product? Don't you just love 'em? Here's a great way to keep the relationship going with a win-win offer that will have them wanting more. It's Growth Tactic #39 of your 100-Day Digital Growth Plan, Email an Upgrade Pitch. OVERVIEW – EMAIL AN UPGRADE PITCH If your product is a service, convincing customers to upgrade to a newer level of service, or move from a free trial to full service, can
10 Easy Tactics to Improve Email Marketing Results
10 Easy Tactics to Improve Email Marketing Results Email marketing continues to be one of the most durable and consistent forms of outreach. However, increased competition demands that you create a precise and insightful campaign to keep your audience engaged. Here are 10 easy tactics that you can implement right now to improve email marketing and bolster your campaign results! Make the best first impression It may seem that email marketing is the most direct form of marketing, but the truth is that
10 Best Ways to Acquire Customers and Spend Less
Given that a business pays as much as six to seven times more to acquire customers than to keep them, a strong acquisition strategy is crucial. It's likely you're now spending significant budget to land each customer relationship, so we want to share our 10 best ways to acquire more customers while spending less. Scroll down to the end for a special Bonus Tip... 1. The Strategic Alliance to Acquire Customers You can control your marketing spend by building your
Top 20 Tips Proven to Boost Conversions up to 200%
Your conversion rate, the number of website visitors who take action, is the final metric that matters--the one that validates all your other efforts. Here are 20 easy-to-digest, practical tips, proven to help you boost conversions by as much as 200%. Adapt these ideas to fit your business and get the greatest possible return out of all your marketing efforts. 1. Test options for the call to action. A/B testing is essential to finding the reasons behind low conversions. Changing