NATIONAL POSITIONS BLOG
The industry's top wizards, doctors, and other experts offer their best advice, research, how-tos, and insights — all in the name of helping you level-up your SEO and online marketing skills.
3 Ways to Say 'Thanks' This Thanksgiving
So, it's Thanksgiving in a couple of days. Did you remember to thank the loyal customers who've been in your corner since day one? What about the new clients you just added to your family? If you made a Thanksgiving faux pas and forgot to send out greetings of gratitude – have no fear! Here are three last-minute ways to say: THANK YOU!    A Typed Note Is Better Than No Note Okay, so we all know that a handwritten
Growth Tactic #95 Make the Most of Your Onboarding Email
Every email you send matters. But the first one you send to a new subscriber, client, or interested party – well that one matters even more. Find out how to Make the Most of Your Onboarding Email with Growth Tactic #95–the newest tool for your 100-Day Digital Growth Plan toolbox. OVERVIEW--Make the Most of Your Onboarding Email  In Growth Tactic #19, we tackled the universal (but oh so important) Welcome Email.  Sometimes, all your list needs is a little recognition
What's the new marketing mindset?
It's all about growth.
Learn the latest in our new eBook.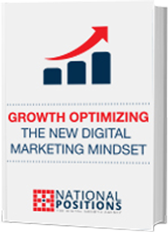 Growth Tactic #88 Optimize Your Email Signature
If you're currently taking the "name + contact info" dead-end approach when it comes to your email signature, you're missing an opportunity. Change it up with Growth Tactic #88, Optimize Your Email Signature, the next tip in your 100-Day Digital Growth Plan. Don't just end your emails on a good note–close them with a call-to-action. OVERVIEW--Optimize Your Email Signature  You should always be selling. Even if you're not the sales guy (or gal). Anywhere you can slip in a
Growth Tactic #76 Wake Up Former Users with an Email Offer
Are your users stuck in a deep sleep? An inactivity trance? Wake up former or inactive users with an email offer that looks as good as that first cup of coffee smells. You'll have customers back in action in no time with Growth Tactic #76, Wake Up Former Users with an Email Offer. It's the next mini-chapter in your 100-Day Digital Growth Plan. Rise and shine! OVERVIEW--Wake Up Former Users with an Email Offer  Humans don't hibernate, so if your
Growth Tactic #67: Gather Big Data on Site Visitors
Big data is such a hot term—you know it's important, but you may not have any idea how you can use it. Perhaps, like a lot of marketers, you're afraid you'll chase after it and end up feeling like the dog that caught the car. We have a few great tips that will help you avoid that "now-what-do-I-do" feeling, in today's Growth Tactic #67 from your 100-Day Digital Growth Plan. Check it out and learn how to Gather Big Data on
Growth Tactic #66: Gain Loyalty with a Personal Touch–Say Thanks
You know that little bubble of excitement you feel when you discover non-bill-related correspondence in the mailbox? It's time to pay it forward. Show your customers that you're willing to go the extra mile, by sending a little something across the miles. Lucky for you, Growth Tactic #66, Gain Loyalty with a Personal Touch–Say Thanks, breaks down the old school "thank-you marketing" method for you. The newest installment of your 100-Day Digital Growth Plan awaits! OVERVIEW: Gain Loyalty with a Personal Touch--Say