NATIONAL POSITIONS BLOG
The industry's top wizards, doctors, and other experts offer their best advice, research, how-tos, and insights — all in the name of helping you level-up your SEO and online marketing skills.
Growth Tactic #79 Find a Social Partner for Shared Growth
Growing your business is not a solo job—good thing that sharing your growth with a social partner is a great way to expand online reach and bring more people to your website. Let's start with the basics: who is a social partner? Any business owner who has a message or customer base that's similar to yours can qualify. Even if you're not a social butterfly, stepping out of your comfort zone and making friends in the business world could be
Growth Tactic #56: Build Infographics to Share
Marketing is a team sport. By increasing the number of players in your lineup, you can grow your chances of scoring major points with prospects. Partnering with another brand to create a killer piece of content could help you hit your next home run. Find out how in Build Infographics to Share. It's Growth Tactic #56 of your 100-Day Digital Growth Plan. OVERVIEW – Build Infographics to Share Pitch a content curveball – and watch what happens next. Sometimes, the
What's the new marketing mindset?
It's all about growth.
Learn the latest in our new eBook.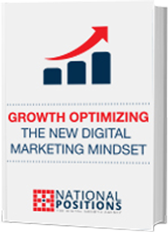 Top 5 Ways to Evaluate Your Social Media Plan
Top 5 Ways to Evaluate Your Social Media Plan Doing social media marketing is the equivalent of running a marathon--not a sprint. That's why you need a solid strategy and a way to monitor success. The question is, how do you know when you've hit a milestone? Here's an even bigger question: what does success actually look like on social media platforms? If social media is all about creating a presence for your business, then it has to be one that
12 Ways to Repurpose Great Content for No Cost
12 Ways to Repurpose Great Content for No Cost The content on your website is a key factor in drawing in visitors. No doubt, you invest time and money in making it work to attract, acquire and convert customers. Stretching your investment so that you get the most use of your content has two distinct advantages for your business. First, it saves money when you use existing content in multiple ways. Second, your business can reach new users by delivering
Quick & Easy Tips for Driving Traffic
What, again? Yup. You always need fresh ideas for driving traffic to your website, with plenty of new visitors, of course. We thought it was time to offer up a collection of quick and easy tips, the kind that get your numbers climbing with the least investment of time and money. So, fasten your seat belt...  Tip #1 Repurpose-Recycle-Reuse for driving traffic Whatever term you use (but we prefer repurpose), save time by repurposing  your best content resources. Reformat content for
The Stats You Need to Know About Influencer Marketing – Infographic
Chances are, you've been hearing a lot about Influencer Marketing and how it's a powerful new spin on word-of-mouth marketing.  While there's nothing we love more than waxing poetic about just how powerful influencer marketing is, we know that nothing speaks louder than great data.  We've combed through tons of data from some of the best marketing studies, surveys, polls and reports to find the stats that can help you decide whether it's time to put the power of Influencer