NATIONAL POSITIONS BLOG
The industry's top wizards, doctors, and other experts offer their best advice, research, how-tos, and insights — all in the name of helping you level-up your SEO and online marketing skills.
Growth Tactic #73 Make the Ask for Online Reviews
Good things come to those who ask for them. At least this much is true when we're talking about online reviews. Let's be honest, we're all guilty of not giving credit where credit is due sometimes. We get lazy or we just don't think of it. But if someone were to flat-out ask you for a review – you just might be more inclined to follow through. Learn how to build your online reputation when you Make the Ask For Online Reviews, #73
Growth Tactic #64: The Exclusive Beta Test
Are you ready for the ultimate FOMO tactic? Make people feel like their worlds will crumble if they miss a chance to become part of the exclusive beta test you've engineered. Launch a new product, service, or even an entire business in such a way that anyone who's anyone will crave to be first in line. Find out about this powerful way to build buzz and more in today's newest Growth Tactic for your 100-Day Digital Growth Plan. It's #64,
What's the new marketing mindset?
It's all about growth.
Learn the latest in our new eBook.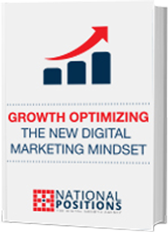 Top 5 Ways to Evaluate Your Social Media Plan
Top 5 Ways to Evaluate Your Social Media Plan Doing social media marketing is the equivalent of running a marathon--not a sprint. That's why you need a solid strategy and a way to monitor success. The question is, how do you know when you've hit a milestone? Here's an even bigger question: what does success actually look like on social media platforms? If social media is all about creating a presence for your business, then it has to be one that
Growth Tactic #20: Successful Guest Blogging & Relationship-Building
Discover the best way to pitch your guest blog idea and learn how you can use these guest blogging opportunities to build relationships. Successful Guest Blogging & Relationship-Building is Growth Tactic #20, the newest tactic for your 100-Day Digital Growth Plan. We're offering our favorite tips and insights to keep you learning and growing well into 2017! Overview -- Successful Guest Blogging & Relationship-Building Stop guessing…and start guest-ing! The benefits of guest blogging on other well-respected and prominent sites are
Growth Tactic #16: PR Strategy — Target then Pitch
Getting your product or service the attention it deserves can be difficult. You've got a lot of competition out there…but with a well-executed PR strategy, anything is possible. Find out more in today's newest tactic for your 100-Day Digital Growth Plan. It's Growth Tactic #16, PR Strategies—Target then Pitch. We're offering our best tips and insights to keep you learning and growing well into 2017! Overview: PR Strategy--Target then Pitch You've got an amazing product or service. Your website is up
Growth Tactic #10: How to Create an Influencer Blog Post
Here's a practical, quick guide to jumping on the Influencer Marketing bandwagon: How to Create an Influencer Blog Post. It's the next tactic for your 100-Day Digital Growth Plan. We're offering our best tips and insights to keep you learning and growing well into 2017! Overview - How to Create an Influencer Blog Post Influencer Marketing is HUGE right now – and there are dozens of ways to incorporate an influencer blog post into your new-and-improved marketing strategy. For this tip we'll be focusing on