NATIONAL POSITIONS BLOG
The industry's top wizards, doctors, and other experts offer their best advice, research, how-tos, and insights — all in the name of helping you level-up your SEO and online marketing skills.
Growth Tactic #99 Stand Out in the Crowd to Get Your Business Seen
What's your marketing shtick? You've got killer content, an incredible product or service, a rock star team with unmatched customer service skills…what more could you need? What more do people want from your brand for crying out loud!? They want you to be different, but also relatable. So, your job is to dazzle them with a shareable, viral campaign they've never seen before – yet can instantly connect with. Find out how you can manage the impossible with Stand Out
Growth Tactic #79 Find a Social Partner for Shared Growth
Growing your business is not a solo job—good thing that sharing your growth with a social partner is a great way to expand online reach and bring more people to your website. Let's start with the basics: who is a social partner? Any business owner who has a message or customer base that's similar to yours can qualify. Even if you're not a social butterfly, stepping out of your comfort zone and making friends in the business world could be
What's the new marketing mindset?
It's all about growth.
Learn the latest in our new eBook.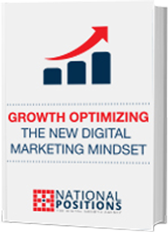 Growth Tactic #49: Simplify Your Landing Page
Who can afford to waste time online, wading through irrelevant details? It's a good bet that you can't, and neither can your site visitors. Spare them the effort and instead, let them see exactly what you have to offer, right up front. Learn more in our Growth Tactic #49, Simplify Your Landing Page, another winner in your 100-Day Digital Growth Plan. OVERVIEW - Simplify Your Landing Page When your message is clear and uncluttered, with a value proposition right up
Growth Tactic #20: Successful Guest Blogging & Relationship-Building
Discover the best way to pitch your guest blog idea and learn how you can use these guest blogging opportunities to build relationships. Successful Guest Blogging & Relationship-Building is Growth Tactic #20, the newest tactic for your 100-Day Digital Growth Plan. We're offering our favorite tips and insights to keep you learning and growing well into 2017! Overview -- Successful Guest Blogging & Relationship-Building Stop guessing…and start guest-ing! The benefits of guest blogging on other well-respected and prominent sites are
12 Ways to Repurpose Great Content for No Cost
12 Ways to Repurpose Great Content for No Cost The content on your website is a key factor in drawing in visitors. No doubt, you invest time and money in making it work to attract, acquire and convert customers. Stretching your investment so that you get the most use of your content has two distinct advantages for your business. First, it saves money when you use existing content in multiple ways. Second, your business can reach new users by delivering
15 Brilliant Email Subject Line Tests that Work
The email campaign remains one of the most durable online marketing programs out there. However, as more consumers than ever try to limit their association with any company they have not directly opted into, the open rate for unsolicited or generic emails continues to drop. If you want to keep your clickthrough rate high, you need to invoke different kinds of A/B test procedures to vet your hooks. Here are 15 brilliant ways to test your email subject line choices.