NATIONAL POSITIONS BLOG
The industry's top wizards, doctors, and other experts offer their best advice, research, how-tos, and insights — all in the name of helping you level-up your SEO and online marketing skills.
Growth Tactic #99 Stand Out in the Crowd to Get Your Business Seen
What's your marketing shtick? You've got killer content, an incredible product or service, a rock star team with unmatched customer service skills…what more could you need? What more do people want from your brand for crying out loud!? They want you to be different, but also relatable. So, your job is to dazzle them with a shareable, viral campaign they've never seen before – yet can instantly connect with. Find out how you can manage the impossible with Stand Out
Growth Tactic #97 Timing is Everything–Schedule Emails
Let's face it: people get busy, so responding to your email might not be their top priority. Luckily, today's growth tip will help you avoid the pain of having an empty inbox. When you schedule emails with care, you'll reach the right people at the right time. Learn how, in Timing is Everything--Schedule Emails. It's Growth Tactic #97, up next in your 100-Day Digital Growth Plan. OVERVIEW: Timing is Everything--Schedule Emails   In the world of business, timing can make or break
What's the new marketing mindset?
It's all about growth.
Learn the latest in our new eBook.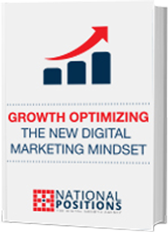 Growth Tactic #95 Make the Most of Your Onboarding Email
Every email you send matters. But the first one you send to a new subscriber, client, or interested party – well that one matters even more. Find out how to Make the Most of Your Onboarding Email with Growth Tactic #95–the newest tool for your 100-Day Digital Growth Plan toolbox. OVERVIEW--Make the Most of Your Onboarding Email  In Growth Tactic #19, we tackled the universal (but oh so important) Welcome Email.  Sometimes, all your list needs is a little recognition
Growth Tactic #92 RSS Subscriber Email
You're constantly churning out great content on your blog – but what's the use if no one is reading it? Make it easy for prospects and customers to transition from occasional site visitors to loyal blog subscribers. It all starts with the right RSS opt-in form and RSS Subscriber Email. With Growth Tactic #92 in your 100-Day Digital Growth Plan, you can grow your list, impress your fans, improve blog readership, and rack up those trust points. OVERVIEW--RSS Subscriber Email
Growth Tactic #88 Optimize Your Email Signature
If you're currently taking the "name + contact info" dead-end approach when it comes to your email signature, you're missing an opportunity. Change it up with Growth Tactic #88, Optimize Your Email Signature, the next tip in your 100-Day Digital Growth Plan. Don't just end your emails on a good note–close them with a call-to-action. OVERVIEW--Optimize Your Email Signature  You should always be selling. Even if you're not the sales guy (or gal). Anywhere you can slip in a
Growth Tactic #85 The Irresistible Email Pitch
Have you ever written an email so great that brand new prospects reply instantly, begging to jump on a call? Get ready to become very familiar with this outcome when you learn how email targeting will help you create The Irresistible Email Pitch. Growth Tactic #85 in your 100-Day Digital Growth Plan will have you pitching…with perfect pitch. OVERVIEW--The Irresistible Email Pitch  Over the past 84 Growth Tactics, we've talked about emails extensively, from educational campaigns to welcome emails to