NATIONAL POSITIONS BLOG
The industry's top wizards, doctors, and other experts offer their best advice, research, how-tos, and insights — all in the name of helping you level-up your SEO and online marketing skills.
Growth Tactic #94 Make a Competitor Comparison Chart
How often have you wondered about the best way to make your company stand apart from its competitors? Here's a no-fail tip for taking your business to the top with a competitive analysis. Differentiating your brand from its competitors will show your clients why your product or service out-performs others. Find out how in Growth Tactic #94, Make a Competitor Comparison Chart. It's next up in your 100-Day Digital Growth Plan. OVERVIEW--Make a Competitor Comparison Chart It's important to know what's out
Growth Tactic #93 When Customers Leave–Learn from an Exit Interview
It's not about you—it's about them. Well, more accurately, when someone walks away from your business, it's all about their customer experience. The worst thing you can do is to take it personally (easy to say, right?). This should help: focus on how to avoid making the same mistakes in the future, with our advice from Growth Tactic #93 of your 100-Day Digital Growth Plan, When Customers Leave—Learn from an Exit Interview. OVERVIEW--When Customers Leave--Learn from an Exit Interview  
What's the new marketing mindset?
It's all about growth.
Learn the latest in our new eBook.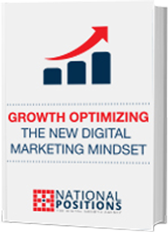 3 Top Types of User Intent & How They Impact Marketing
What is that guy who types the word "coffee" into his search textbox looking for exactly? Taken out of context, there is no way to know what this person wants--his user intent. He could be searching for the nearest coffee shop, for example, or maybe he wants directions on how to make a cup of coffee. Perhaps he's searching for an address located on Coffee St. In the early days of search engines, it was common for a user to
Growth Tactic #57: FOMO–When Fear Works
Do you know the code? The hidden meaning behind FOMO? Afraid you'll miss out (wink, wink)? It's really no secret, in fact, FOMO refers to the very common human reaction known as Fear of Missing Out. Learn how to build urgency when you use FOMO to grow your business, in Growth Tactic #57 FOMO—When Fear Works. Don't you miss out on this latest update in your 100-Day Digital Growth Plan. OVERVIEW: FOMO–When Fear Works FOMO (fear of missing out)--it's that
Growth Tactic #52: Add a Progress Bar
Here's a way to give site visitors the feeling of satisfaction that comes from knowing they've made progress in life, even if it's just in the context of buying a product from you. Ever notice how some websites let you see where you stand along the path to making a purchase or completing a survey? They've figured out that a progress bar—or completeness meter—works in their favor. Learn more about why that is, and how you can make it work
15 Brilliant Email Subject Line Tests that Work
The email campaign remains one of the most durable online marketing programs out there. However, as more consumers than ever try to limit their association with any company they have not directly opted into, the open rate for unsolicited or generic emails continues to drop. If you want to keep your clickthrough rate high, you need to invoke different kinds of A/B test procedures to vet your hooks. Here are 15 brilliant ways to test your email subject line choices.