NATIONAL POSITIONS BLOG
The industry's top wizards, doctors, and other experts offer their best advice, research, how-tos, and insights — all in the name of helping you level-up your SEO and online marketing skills.
Investing in Customer Lifetime Value
Think about all the important people in your life. Is it your best friend you've known since kindergarten, a spouse, or a parent? Why are they so important to us? Affinity, experiences, and trust. All of this has been built over a lifetime, and nurturing these relationships has become part of our DNA.  As professionals, we of course value our customers, but we can't ignore the lifetime value of these customers and how this impacts our business. Just like being
Your 100-Day Digital Growth Plan Complete!
What's the one thing every digital marketer knows? You're never done growing. There's always something new to learn…that is, if you want to stay ahead of the competition and elevate your business to new heights. Now that we've completed our 100-Day Plan, we're afraid you'll miss your daily dose of digital growth! That's why we're happy to present the first in our 5-eBook Series, collecting the 100-Day blogs into topic groupings. (Get your FREE download of the first one here.)
What's the new marketing mindset?
It's all about growth.
Learn the latest in our new eBook.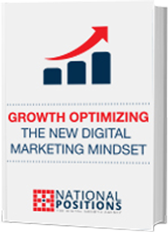 Growth Tactic #98 Support a Good Cause and Grow
Doing well by doing good—it's not a new idea, but as long as there is a need for good causes and the organizations that address them, there will be a need for companies willing to pitch in. Smart business owners and marketers know the benefits and rewards for those ready to Support a Good Cause and Grow. Learn their secrets in Growth Tactic #98 from your 100-Day Digital Growth Plan—and do take note—there are only 2 more to go before
Growth Tactic #97 Timing is Everything–Schedule Emails
Let's face it: people get busy, so responding to your email might not be their top priority. Luckily, today's growth tip will help you avoid the pain of having an empty inbox. When you schedule emails with care, you'll reach the right people at the right time. Learn how, in Timing is Everything--Schedule Emails. It's Growth Tactic #97, up next in your 100-Day Digital Growth Plan. OVERVIEW: Timing is Everything--Schedule Emails   In the world of business, timing can make or break
Growth Tactic #95 Make the Most of Your Onboarding Email
Every email you send matters. But the first one you send to a new subscriber, client, or interested party – well that one matters even more. Find out how to Make the Most of Your Onboarding Email with Growth Tactic #95–the newest tool for your 100-Day Digital Growth Plan toolbox. OVERVIEW--Make the Most of Your Onboarding Email  In Growth Tactic #19, we tackled the universal (but oh so important) Welcome Email.  Sometimes, all your list needs is a little recognition
Growth Tactic #94 Make a Competitor Comparison Chart
How often have you wondered about the best way to make your company stand apart from its competitors? Here's a no-fail tip for taking your business to the top with a competitive analysis. Differentiating your brand from its competitors will show your clients why your product or service out-performs others. Find out how in Growth Tactic #94, Make a Competitor Comparison Chart. It's next up in your 100-Day Digital Growth Plan. OVERVIEW--Make a Competitor Comparison Chart It's important to know what's out