NATIONAL POSITIONS BLOG
The industry's top wizards, doctors, and other experts offer their best advice, research, how-tos, and insights — all in the name of helping you level-up your SEO and online marketing skills.
6 Content Marketing Strategies to Drive Growth
It's on the lips of every marketer in the world. It's challenging. It's effective, and when applied correctly, can drive massive results. Content marketing has been pushed into the spotlight and the light is only growing brighter. A good content marketing strategy can make the difference between growth and stagnation. The trick? Creating content that people want to consume and search engines want to rank. Easy to say. Hard to do. So how do you create content that actually drives
Content: When Less Is More and More Is Better
Bite-sized content grabs attention. Longer messages inform the reader. Short-form content is the superficial fluff of the marketing world. No one reads long articles anymore. You probably know all the arguments for and against each type of content. You may even know that any well-rounded content marketing strategy requires both longer and shorter pieces. But do you know which to use, when, and why? Here are a few content marketing ideas that will help you sort through the confusion. Sometimes
What's the new marketing mindset?
It's all about growth.
Learn the latest in our new eBook.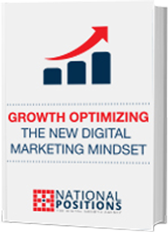 How to Personalize the Customer Journey
Consumers have always valued meaningful personal interactions—the baker who greets them by name or the cashier who remembers their kids' birthdays. In the past, only smaller boutiques, local shops and luxury brands could offer such intimate customer journeys. Meanwhile, people accepted the anonymity of the digital marketplace as par for the course. But this is a new day. The arrival of social media, advanced analytics, and artificial intelligence has changed the way companies engage with their audience. Now, organizations of
Your 100-Day Digital Growth Plan Complete!
What's the one thing every digital marketer knows? You're never done growing. There's always something new to learn…that is, if you want to stay ahead of the competition and elevate your business to new heights. Now that we've completed our 100-Day Plan, we're afraid you'll miss your daily dose of digital growth! That's why we're happy to present the first in our 5-eBook Series, collecting the 100-Day blogs into topic groupings. (Get your FREE download of the first one here.)
Growth Tactic #100 Keep Sharing on Social for More Promotion
Your new blog post is the Hope Diamond of all blog posts. It glimmers and shines on your website. Don't keep it hidden in the dark – make it sparkle in front of an even bigger crowd. How? Promote, promote, promote! Learn how to Keep Sharing on Social for More Promotion (without annoying or boring your readers). Welcome to Growth Tactic #100, the final piece in your 100-Day Digital Growth Plan. Congratulations--you've graduated! OVERVIEW: Keep on Sharing on Social for
Growth Tactic #99 Stand Out in the Crowd to Get Your Business Seen
What's your marketing shtick? You've got killer content, an incredible product or service, a rock star team with unmatched customer service skills…what more could you need? What more do people want from your brand for crying out loud!? They want you to be different, but also relatable. So, your job is to dazzle them with a shareable, viral campaign they've never seen before – yet can instantly connect with. Find out how you can manage the impossible with Stand Out