NATIONAL POSITIONS BLOG
The industry's top wizards, doctors, and other experts offer their best advice, research, how-tos, and insights — all in the name of helping you level-up your SEO and online marketing skills.
Your 100-Day Digital Growth Plan Complete!
What's the one thing every digital marketer knows? You're never done growing. There's always something new to learn…that is, if you want to stay ahead of the competition and elevate your business to new heights. Now that we've completed our 100-Day Plan, we're afraid you'll miss your daily dose of digital growth! That's why we're happy to present the first in our 5-eBook Series, collecting the 100-Day blogs into topic groupings. (Get your FREE download of the first one here.)
Growth Tactic #100 Keep Sharing on Social for More Promotion
Your new blog post is the Hope Diamond of all blog posts. It glimmers and shines on your website. Don't keep it hidden in the dark – make it sparkle in front of an even bigger crowd. How? Promote, promote, promote! Learn how to Keep Sharing on Social for More Promotion (without annoying or boring your readers). Welcome to Growth Tactic #100, the final piece in your 100-Day Digital Growth Plan. Congratulations--you've graduated! OVERVIEW: Keep on Sharing on Social for
What's the new marketing mindset?
It's all about growth.
Learn the latest in our new eBook.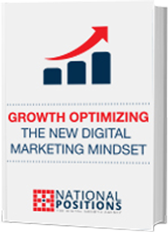 Growth Tactic #99 Stand Out in the Crowd to Get Your Business Seen
What's your marketing shtick? You've got killer content, an incredible product or service, a rock star team with unmatched customer service skills…what more could you need? What more do people want from your brand for crying out loud!? They want you to be different, but also relatable. So, your job is to dazzle them with a shareable, viral campaign they've never seen before – yet can instantly connect with. Find out how you can manage the impossible with Stand Out
Growth Tactic #92 RSS Subscriber Email
You're constantly churning out great content on your blog – but what's the use if no one is reading it? Make it easy for prospects and customers to transition from occasional site visitors to loyal blog subscribers. It all starts with the right RSS opt-in form and RSS Subscriber Email. With Growth Tactic #92 in your 100-Day Digital Growth Plan, you can grow your list, impress your fans, improve blog readership, and rack up those trust points. OVERVIEW--RSS Subscriber Email
Growth Tactic #83 Time Your Social Media Posts to News & Events
Everyone else is doing it...If the majority of your followers on social media are posting about a world event, breaking news, a holiday, or a viral video…why aren't YOU? Sometimes following the crowd and hopping on a trend isn't tacky…it's smart. So, if there's any time to practice to your "sheeple" skills – it's now. Little do they know – you're a sheep with a strategy. Learn how to Time Your Social Media Posts to News & Events and gain followers,
Growth Tactic #79 Find a Social Partner for Shared Growth
Growing your business is not a solo job—good thing that sharing your growth with a social partner is a great way to expand online reach and bring more people to your website. Let's start with the basics: who is a social partner? Any business owner who has a message or customer base that's similar to yours can qualify. Even if you're not a social butterfly, stepping out of your comfort zone and making friends in the business world could be