NATIONAL POSITIONS BLOG
The industry's top wizards, doctors, and other experts offer their best advice, research, how-tos, and insights — all in the name of helping you level-up your SEO and online marketing skills.
Are Machine Learning & AI Redefining Digital Marketing?
A commercial comes on while you're watching the newest episode of your favorite TV show and more often than not, it's for a product or service you don't need. What do you do? You use commercial breaks to grab a snack, finish a text message, or see what is in your social newsfeed. By the time your attention returns to the screen, you've missed virtually all the commercials and are ready to refocus on your show. This is great if
Growth Tactic #96 Expand Your Reach by Integrating Partner Software
Feeling a bit isolated in the competitive online world? Make new friends and build your business as you Expand Your Reach by Integrating Partner Software. You may think you aren't ready for partners, but think again: you can have the benefit of a partner's brilliant idea (read: app) and skip the complication of a full-on relationship (read: no baggage). It's easier than you think, as you'll see in Growth Tactic #96—one of the last 5 gems in your 100-Day Digital Growth Plan!
What's the new marketing mindset?
It's all about growth.
Learn the latest in our new eBook.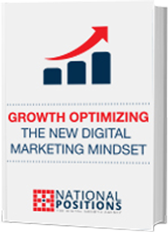 Growth Tactic #50: Custom Conversion Funnels for Optimization
You can drive a whole herd of visitors to your website, but you can't make them convert—and it's all about conversion. Are you wondering why the great traffic you've generated is failing to produce more customers? Solve that mystery with our newest Growth Tactic #50 in your 100-Day Digital Growth Plan. It's all about Custom Conversion Funnels for Optimization. OVERVIEW -- Custom Conversion Funnels for Optimization As one of a suite of tools in your conversion optimization kit, custom conversion funnels
Growth Tactic #47: Map User Actions with Dynamic Heatmaps
You can see clearly now—how users interact with your website, that is. Get an actual map of where visitors travel around your site, and make more informed choices to improve user experience (UI/UX), with our latest Growth Tactic, #47 in your 100-Day Digital Growth Plan, Map User Actions with Dynamic Heatmaps. OVERVIEW - Map User Actions with Dynamic Heatmaps Feeling the heat from competitor websites? You may need new tools to stay several steps ahead in the race for market
Growth Tactic #46: See and Record Visitor Movements Onsite
They made it to your site! But do you know what your visitors are doing, where they're clicking, and why they're running into trouble once they get there? In Growth Tactic #46 See and Record Visitor Movements Onsite we explain how you can identify webpage issues and visitor patterns. Get ready to learn how your site can excel in user experience optimization. Check out our newest tactic for your 100-Day Digital Growth Plan. We're offering our best tips and insights
Growth Tactic #45: Try Us for Nothing–a Free Trial Tactic
It may seem like the height of counter-intuitive marketing, but giving away your service could be the very thing that helps you sell it (think grocery store food sampling while you shop). The same principle applies to motivating buyers to sign up for your services. Learn the tricks—and the rationale—behind our latest Growth Tactic, #45 Try Us for Nothing—a Free Trial Tactic, from your 100-Day Digital Growth Plan. It's a proven way to win over skeptical or tuned-out prospects who could