If you've ever had the burning desire to express your search query in the form of an emoji, you're in luck. Bing has announced their algorithm will now officially be supporting the use of emoji characters as search terms in all English search queries.
As most iphone users should be familiar with, emoji are are tiny images used to express common ideas, objects, and emotions. While emoji have been features on mobile keyboards for the past few years, they haven't always been searchable. Where once Bing's search algorithm returned only "No Results Found" messages, Bing has now opened up a whole new world of tiny picture-prompted search results.
By incorporating emojis into their search algorithm, Bing has now enabled consumers to search with a whole new set of their favorite visually-based terms. The slang and images we've become accustomed to in texting are a part of the terminology that millions of people around the world use every day, which means it's only been a matter of time until all of the search engines supported them.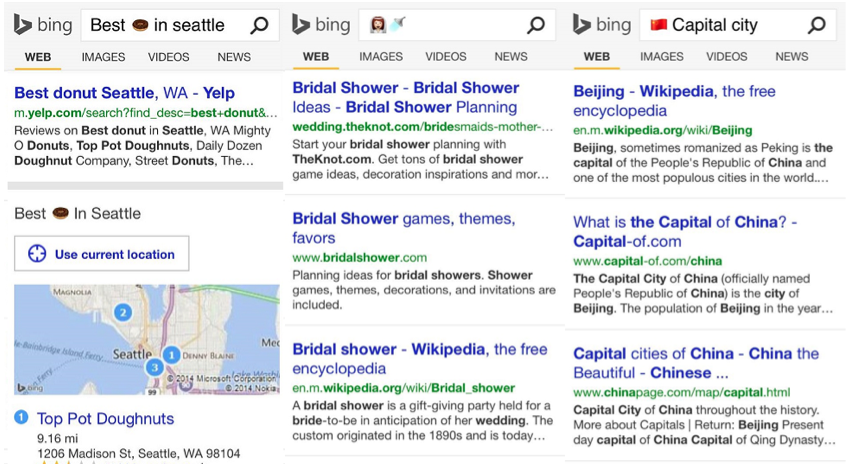 While this may not impact much in terms of sites' rankings or traffic–it certainly speaks to reality that search is becoming more and more mobile-focused toady.
In 2012, the number of searches on mobile devices overtook the number of searches being made on desktops. That trend has only continued to grow over the last 2 years, making having a mobile-friendly sites, and a mobile SEO game plan, more important than ever for businesses looking to get exposure with the growing number of consumers in the mobile market.
If you're not sure if your business is mobile-ready, try testing out how your site stands up to the test–are you showing up in any of the mobile search results? Is your site responsive or adaptive? Is your site easy to navigate? Does it convert?  Questions like these are key. And if you're still not sure what you need to do to improve your business' mobile presence–just get in touch and we can help you make your site and your SEO strategy more mobile-friendly.