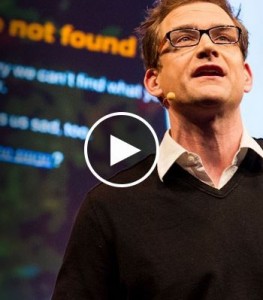 As SEOs, 404 "not found" pages are an ever growing pain in our side. Seemingly, every time a web design is changed or new files on a site are taken live, this creates several 404s on your website. And these 404s create broken links–one page referencing another on your website, only the doorway is closed off. From a UX standpoint, this is awful – you want users to easily navigate your site and found the stuff they click. Which is why 404s can severely harm your SEO campaign; Google penalizes site's organic rankings if they have too many 404s and broken links.
Well, as the cliché goes…every challenge creates its own opportunity. Even when it comes to 404s. At least that's what Renny Gleeson is arguing in his TED talk. Renny makes the point that 404s offer a chance to endear yourself to your customers and strengthen your brand by communicating a clever, funny and altogether unique marketing message. Renny's talk offers great insight into how social media and web have changed the way consumers engage with brands, and why personal marketing wins on the Internet.
As SEOs, we can't in good conscience recommend you keeping your broken links. But if you're going to have some, you may as well have an awesome 404 page.
Watch Renny's TED Talk and let us know what you think!