10 Secrets to Local SEO Ranking for Customer Acquisition
Think small to get big.
Possibly counter-intuitive, but definitely relevant–your online customer acquisition strategy must be localized in order to expand to its greatest capacity. The wide net strategy of past generations will only get you ignored by humans and search directories alike, while localized tactics will help you to expand organically into the internet's global potential. Here are 10 secrets to local SEO ranking for customer acquisition. These vetted tips will help you power up your acquisition strategies and achieve top local rankings.
Organizing the Proper On-Page Elements
The major search engines are looking to your page for indicators of physical location that will help index your content geographically. Moz estimates that this is the most important factor if you are looking to increase local search ranking. Make sure that your page includes a proper page title, localized meta descriptions, at least 100 words of content, and a consistent NAP. You should also include structured data to help create rich snippets in SERPs.
Consistent NAP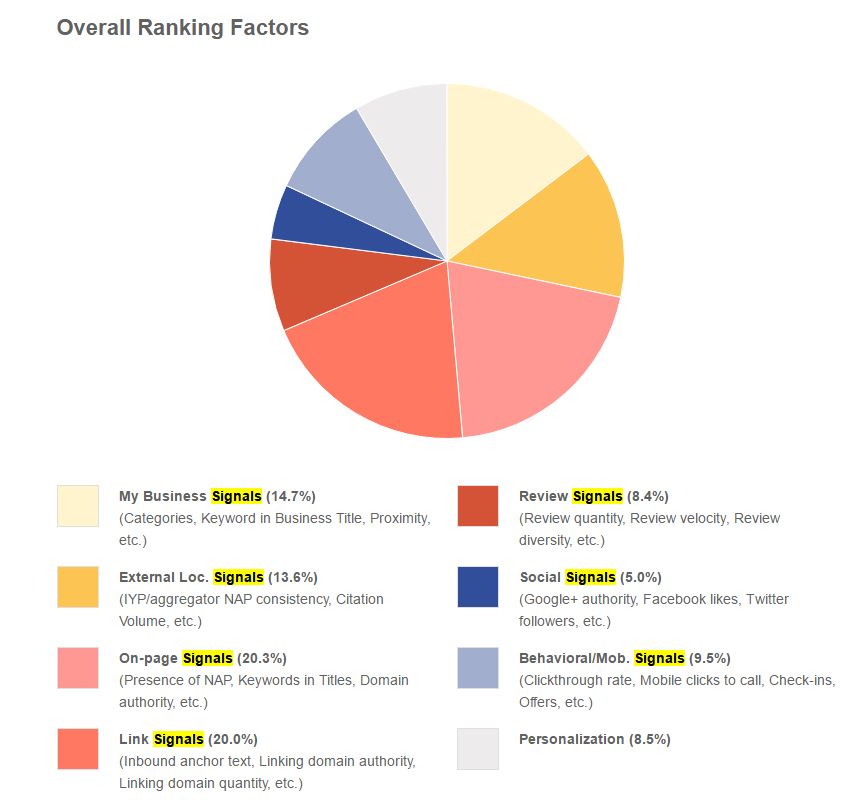 Image source: https://moz.com/local-search-ranking-factors
NAP, or "name, address, phone number," are the three elements that must be consistent across all major search directories. If they are not, your listing won't get the search ranking it would otherwise achieve. Even a change as small as abbreviating the word "street" in your address on one platform while writing it out on another, may cause Google to view the listing as two separate ones. Use the copy/paste function across platforms in order to ensure zero human error.
Updated Information
The major search engines, Google especially, are sticklers for bad links. If your physical address is incorrect or your business profile links go to a dead website, you could lose a great deal of trust within search engines. As soon as it is updated in the real world, it should be updated on the internet. This includes rebranding your business with a new name.
Submit Only to Relevant Directories
Long gone are the days when submitting your website to every directory you find would get you a search rank boost. In the modern world of search optimization, directories that are irrelevant or poorly received will actually hurt your ranking. Make sure that you only submit your listing to directories that are relevant to your industry and are well respected.
Claiming Your Online Business Profiles
Your address or business name may already be in the major search engines or on prominent review websites, even if you did not take action to place it there. You will often find a warning box prompting the owner of the business to claim the listing as soon as possible. If you do not, your competition may very well do so and sabotage your brand, even driving traffic away from you to a competitor.
Using the Schema.org Business Markup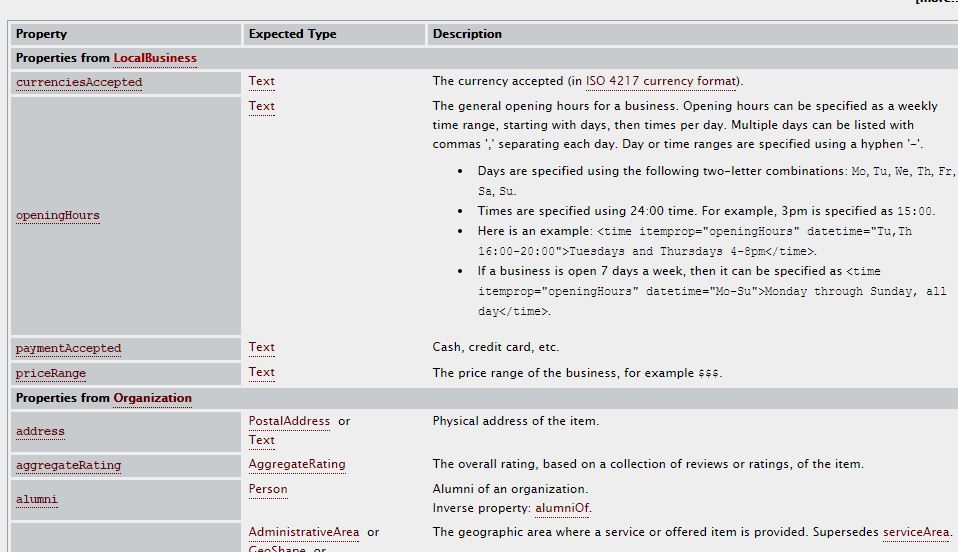 Image source: https://schema.org/LocalBusiness
A relatively simple way to ensure that the major search engines receive consistent information about your business is to use the schema.org business markup. This is a feed that is created specifically to help small businesses, and it organizes your data in a way that is easily accessible to Google.
Getting Reviews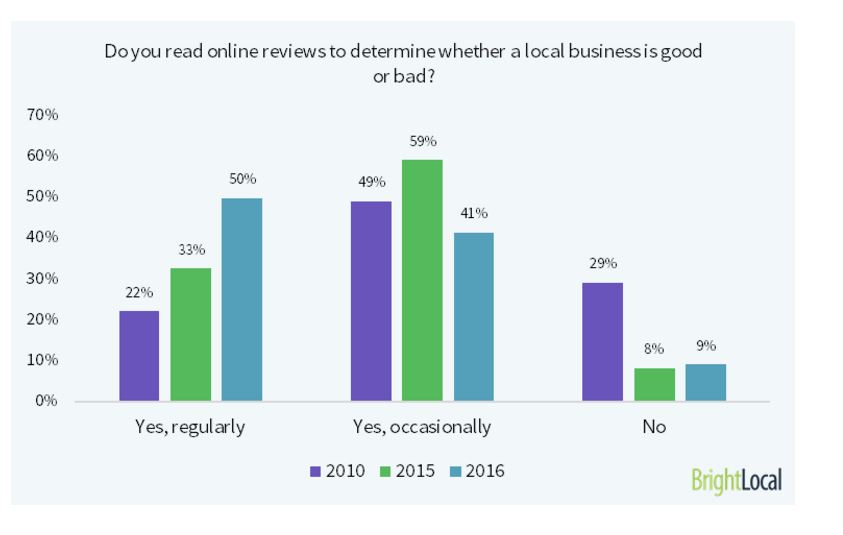 Image source: https://www.brightlocal.com/learn/local-consumer-review-survey/
Having positive reviews on the major review websites is one of the best ways to build trust with the major search engines. All three of the major search engines have a separate deal with Yelp to prioritize review listings. Keep in mind that Google has the ability to tell the difference between a bad review and a good review as well, so solicit for quality. Keep your customer service on point so that bad reviews do not stay up long if they occur at all.
Using Good Reviews to Drive Consistent Traffic
Great reviews on a top review website like Yelp, Foursquare, or TripAdvisor, can be used to create more consistent traffic to your website. Because these reviews are considered authoritative, you can market them a little bit more directly than you could a traditional advertisement. Once the major search engines see that you are getting consistent traffic, they will begin to trust your business listings more and raise you in search rankings.
Note: there is no viable search engine marketer who will tell you to buy reviews. Search engines are getting very good at weeding these out, so they are a waste of money as well as dishonest.
High Quality Pictures
It might seem like a no-brainer, but you'd be surprised at the number of small businesses that use high definition avatars and timeline pictures. If you want better stats in your customer acquisition results, you must realize that your first impression is the lasting one. Hire a professional photographer if you must, but make sure that your pictures are competitive with the best of your competition.
Consider stock photos a backup plan, unless you have no other options. They look less authentic, and will never match the local flavor of your original shots.
Content Creation
If you have the ability to create high quality content every day on behalf of your business, do so. This could be in the form of new pictures on your social media platforms, a podcast with indirect marketing references or a blog with relevant how-to articles concerning your industry. Your purpose with this content is to begin building a web of links around the internet that point back to your landing pages. As the major search engines begin to associate your site with relevant keywords, you will rank higher for those keywords.
Localizing your link-building and keyword strategy helps to accelerate the visibility process. Because there is a much shorter SERP line for a business in a particular city than there is for a general term, you will access top listings in a much shorter period of time. Once you begin to get the consistent traffic that comes from top listings in your local area, the major search engines will naturally expand your listings outside of that area.
The above tips are only a start in making sure that you achieve the visibility and viability you need to create a great customer acquisition strategy. There is more competition than ever for the eyes and dollars of the modern consumer, and you can never let up on your online marketing. Keep your ear to the ground and take advantage of all new technologies that can help you automate or outsource these essential functions. In time, you'll begin to outpace your competition, but don't expect these tips to work alone–use them in tandem for best results. Contact National Positions for help applying these secrets, learning more, and driving your local search rankings into the top spot.